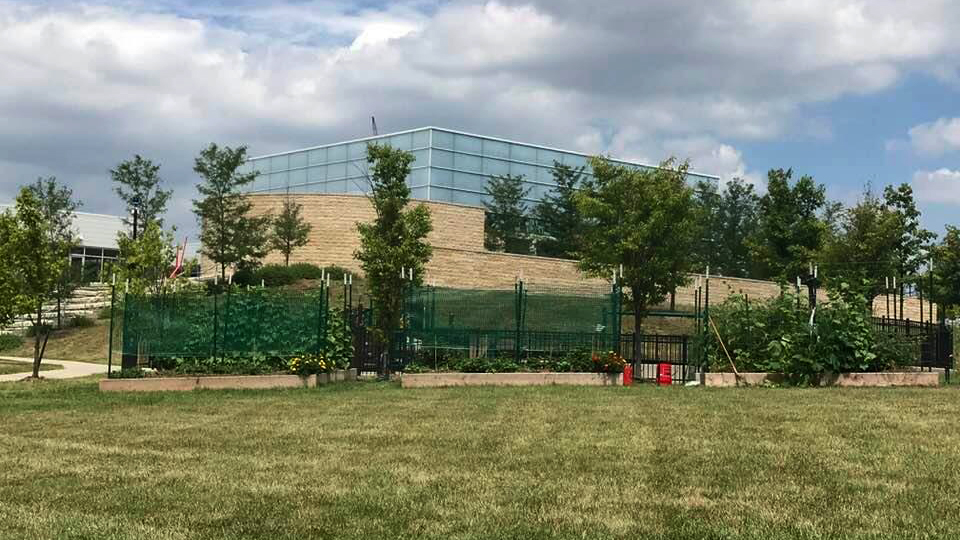 Recognizing the benefits of nature and shared community spaces, the Tri-Faith Garden and Orchard is a unique opportunity for community members to grow and harvest food together. The Tri-Faith Garden and Orchard honor each faith group's distinct relationship to nature as well as the role that harvest and bounty play in the ceremonial and celebratory aspects of faith. The garden and orchard will be tilled, planted, and harvested by volunteers from each congregation, creating a shared experience that strengthens bonds between these partners. The vegetables, fruit, and herbs that are harvested will be used to stock the Countryside Community Cupboard, a free food pantry open to all. Food harvested from the Garden and Orchard will also supply ingredients for community gatherings such as the Tri-Faith Picnic.
The Tri-Faith Garden is located behind Temple Israel by the playground. We currently have eight raised garden beds full of different vegetables. The trees are small, but we are looking forward to the life, shade, and fruit they will soon provide.
To find out more about how to volunteer, get dirty, and dig in: contact program director Amanda Ryan at alryan@trifaith.org.
Tri-Faith is one of the few organizations I can think of that is truly breaking down walls and taking risks at this level, especially in today's society of base arguments and fear mongering about the other. That is a kind of faith I can get behind.