Using The Power of Public Memory To Reconcile and Heal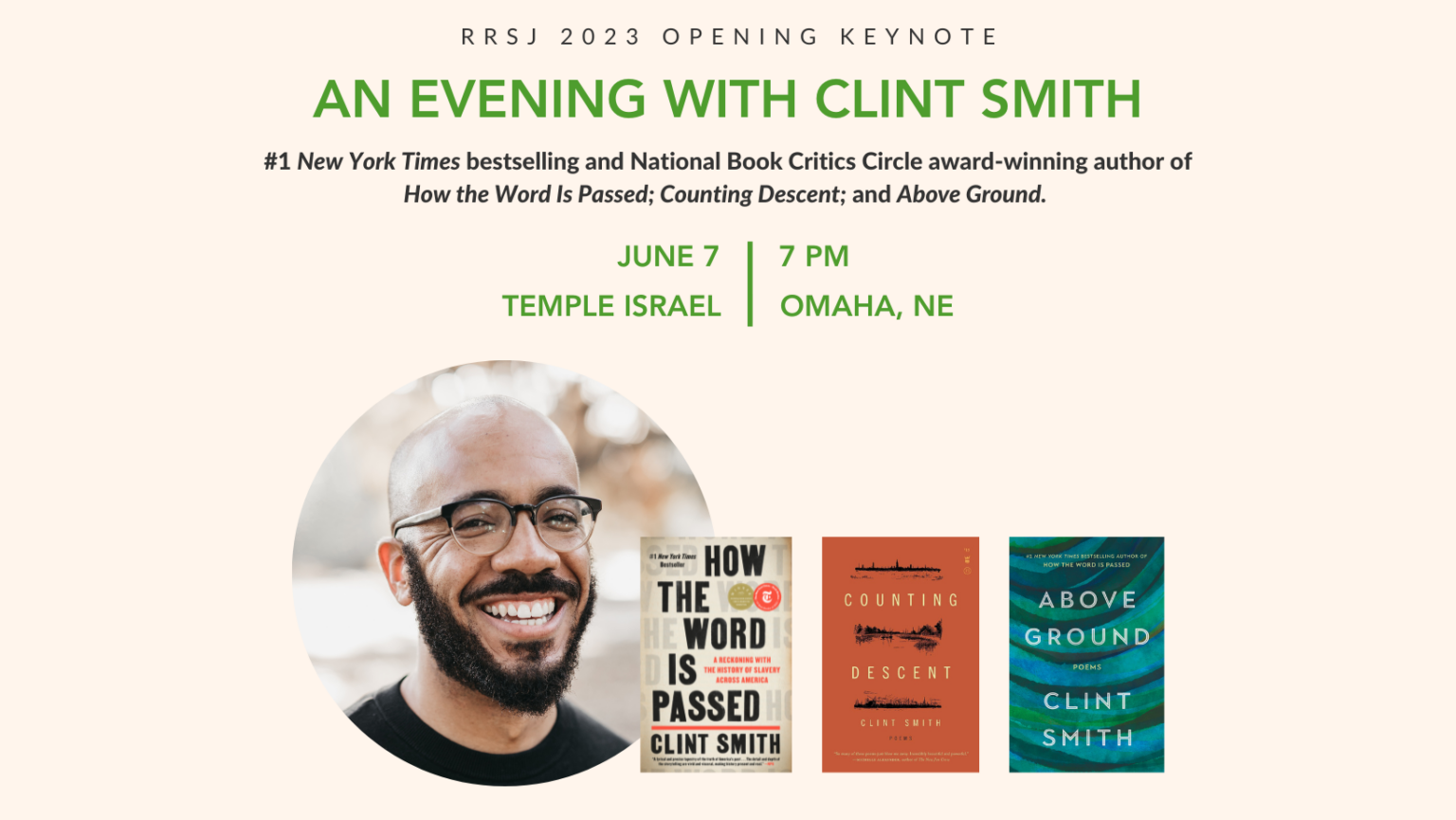 "At some point it is no longer a question of whether we can learn this history but whether we have the collective will to reckon with it."
― Clint Smith, How the Word Is Passed: A Reckoning with the History of Slavery Across America
On Wednesday, June 7, we will co-host an evening with Clint Smith, a writer, teacher, and scholar who has been exploring the intersections of race, history, and culture in his work. The event is a fireside chat about Smith's book, "How the Word Is Passed," which examines how public memory shapes our understanding of the past and present and a discussion of his recent Atlantic article about his trip to Germany to learn about how the country has reckoned with its own history of genocide and white supremacy.
Why attend an evening with Clint Smith?
For starters, Smith is a gifted storyteller and communicator who has a unique ability to connect with audiences of all backgrounds and ages. His writing and speaking style is both accessible and engaging, and he has a knack for making complex ideas and historical events come alive in ways that are both informative and inspiring.
But beyond his talents as a writer and speaker, Smith's work is also deeply relevant to the challenges and opportunities facing our society today. As he notes in "How the Word Is Passed," the stories we tell about our past and present have a profound impact on our collective identity, values, and aspirations. They shape our understanding of who we are, where we come from, and where we are going as a nation and a people.
"So much of the story we tell ourselves about history is really the story that we tell about ourselves, about our mothers and our fathers and their mothers and their fathers, as far back as our lineages will take us. Throughout our lives we are told certain stories and they are stories that we choose to believe — stories that become in our identities in ways we are not always fully cognizant of"


―

Clint Smith, How the Word Is Passed: A Reckoning with the History of Slavery Across America
This is especially true when it comes to the legacy of slavery and racism in the United States. As Smith argues, the history of slavery is not just a distant memory or a footnote in our national story. It is a living legacy that continues to shape our society in profound and often invisible ways. From the racial wealth gap to the criminal justice system to the ongoing debates over Confederate monuments and symbols, the legacy of slavery is still with us, and it demands our attention and action.
But how do we reckon with this legacy in a way that is honest, inclusive, and healing?
This is where the power of public memory comes in. By telling the stories of our past in a way that acknowledges the full complexity of our history, we can begin to build a more inclusive and just society. This means not only acknowledging the horrors of slavery and racism but also celebrating the resilience, creativity, and resistance of Black people and other marginalized communities who have fought for freedom and justice throughout our history.
This is the message that Smith brings to his work, and it is sorely needed in our current moment of political polarization, social fragmentation, and the rise of religious nationalism. As he notes in his Atlantic article about his trip to Germany, the lessons of the Holocaust and the Nazi regime are not just about the dangers of authoritarianism and genocide. They are also about the power of collective memory and the importance of confronting our past in order to build a better future.
"It is impossible for any memorial to slavery to capture its full horror, or for any memorial to the Holocaust to express the full humanity of the victims. No stone in the ground can make up for a life. No museum can bring back millions of people. It cannot be done, and yet we must try to honor those lives, and to account for this history, as best we can. It is the very act of attempting to remember that becomes the most powerful memorial of all."


―

Clint Smith, Moments to the Unthinkable, The Atlantic, December 2022
Attending an evening with Clint Smith is about more than just hearing a great speaker or learning about a fascinating book. It is about recognizing that the stories we tell about our past and present have the power to shape our future and that we have a responsibility to tell those stories in a way that is honest, inclusive, and empowering for all. Smith emphasizes that people, not governments, construct memory and memorials. He writes,
"Germany's most powerful monuments did not begin as state-sanctioned projects, but emerged — and are still emerging — from ordinary people outside the government who pushed the country to be honest about its past. Americans do not have to, and should not, wait for the government to find its conscience."


―

Clint Smith, Moments to the Unthinkable, The Atlantic, December 2022
Join me – I promise it will be an honest conversation about some of the most pressing issues of our time as Clint and I explore how we can use the power of public memory to reconcile and heal from our history with slavery, confront the threat of religious nationalism, and bridge the divides that are tearing our society apart.