Protecting Religious Freedom and Promoting Pluralism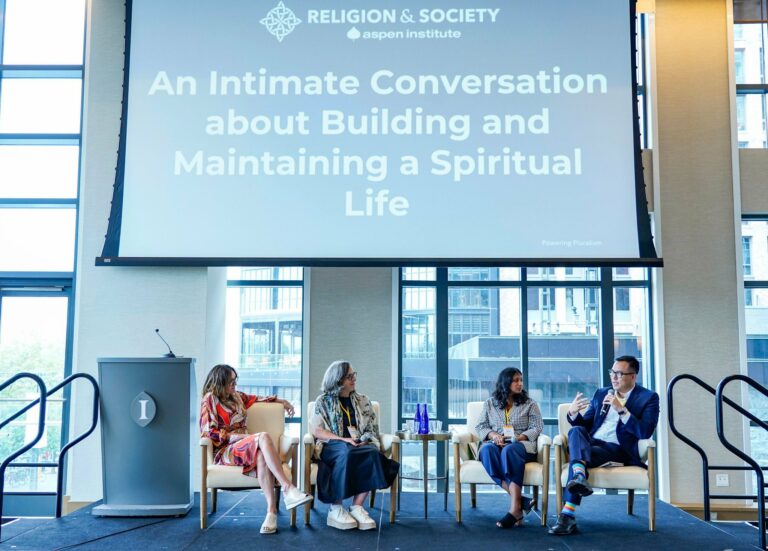 The Aspen Institute's Religion and Society's inaugural Powering Pluralism Summit, held June 22-23, 2023, in Washington, D.C., brought together individuals from diverse religious and non-religious backgrounds to explore the essence of religious pluralism. 
The gathering prioritized the principle of "nothing about them without them." This principle recognizes the importance of including the voices and perspectives of the communities affected by the movement's goals and initiatives. It emphasizes the need to actively involve individuals from diverse backgrounds in decision-making processes, policy discussions, and advocacy efforts. By practicing "nothing about them without them," we acknowledge that religious literacy is a continuous process of learning and understanding. It is crucial to seek the expertise of individuals with knowledge and lived experiences related to different religious traditions. 
Embracing the humility to admit what we don't know and seeking expert guidance fosters an environment of open dialogue, respect, and genuine engagement, ultimately leading to a more inclusive and informed pluralistic movement.
As a representative of Tri-Faith, I was honored to showcase our transformative journey as a beacon of hope where differences are honored, similarities are built upon, and everyone belongs. Tri-Faith represents a unique initiative where two small religions and the majority religion in Omaha came together to demonstrate that equity and inclusion of religious differences are necessary for community building. Our model inspires others, emphasizing the significance of proximity, bridge-building, religious literacy, and the dismantling of hate.
Nebraska and Tri-Faith stand as testaments to the power of pluralism. Our state's demographics mirror the diversity of the United States, providing an opportunity to leverage and experiment with strategies that foster inclusivity. However, it is crucial to acknowledge Nebraska's recent increase in religiously motivated hate crimes.
Our country's extreme political polarization, the growth of religious nationalism, and white supremacist ideologies manifest in hate crimes, acts of violence, and the dissemination of extremist ideologies through online platforms are alarming. 
Changes in the Supreme Court, state legislation, and increased religious freedom claims have far-reaching societal implications. To counteract the challenges these changes pose, it is necessary to forge collaborations with diverse stakeholders, including cross-sector organizations, policymakers, and advocates. These strategic partnerships can influence policies that uphold religious pluralism and equity. 
There is a mandate to acknowledge the rights of individuals to hold religious beliefs, AND it is equally important to address the potential consequences when these beliefs are used to promote discrimination or undermine the rights of others. 
By amplifying the impact of initiatives promoting religious pluralism, we can foster a society that respects and protects the rights of all individuals, regardless of their religious beliefs or background.
Here are ways to proactively contribute to protecting religious freedom and promoting pluralism:
Maturing and gaining national attention

: By gaining national attention, Tri-Faith is a model for other communities and inspires them to embrace similar approaches. This recognition contributes to the larger conversation on pluralism and encourages the replication of such initiatives nationwide.

 

Innovation and disruption

: Pluralistic societies require continuous innovation and the disruption of existing patterns to overcome historical, cultural, spiritual, and existential conflicts. Disrupting patterns that perpetuate division and inequality allows for exploring new possibilities and creating more inclusive spaces.

 

Embracing diverse narratives and experiences

: By actively seeing, hearing, and affirming the other, even in the midst of disagreement, individuals can foster a sense of mutual respect and understanding. This commitment to embracing diverse perspectives strengthens the fabric of a pluralistic society.

 

Overcoming the "either/or" binary

: Pluralism thrives when individuals move beyond binary thinking and recognize that there is value in engaging with diverse perspectives. By transcending the limitations of an "either/or" mindset, people can create space for constructive dialogue and collaborative learning. 
Our efforts to protect religious freedom and promote pluralism require a multifaceted approach that involves active engagement, inclusive dialogue, and collaborative efforts. By embracing the principle of "nothing about them without them" and seeking the expertise and perspectives of diverse communities, we can foster an environment of mutual respect and understanding. It is crucial to acknowledge the challenges posed by the rise of religious nationalism and white supremacy while working towards influencing policies that uphold religious pluralism and equity. Together, we can build a society that values and protects the rights of all individuals, regardless of their religious beliefs or background, and create a future where pluralism thrives