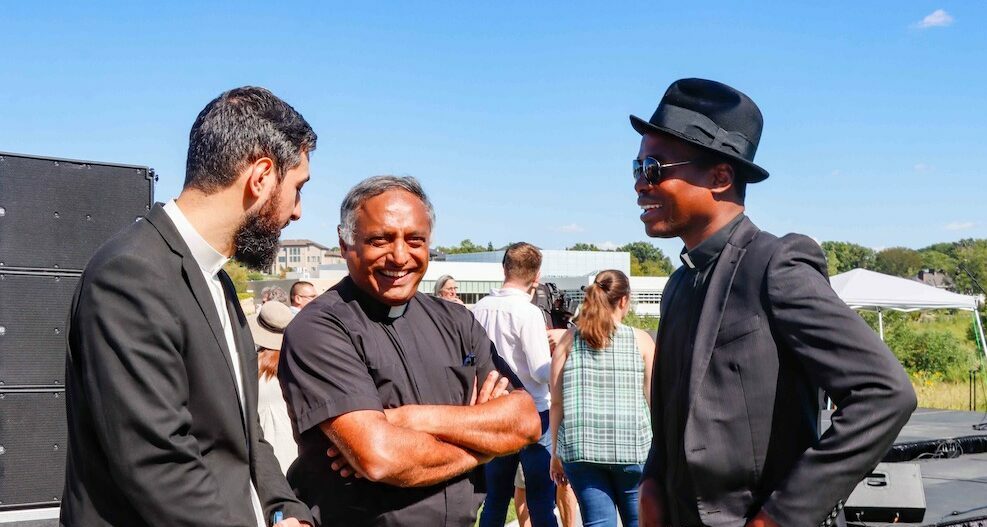 NOW ACCEPTING APPLICANTS FOR THE INAUGURAL 2023 COHORT!
APPLICATIONS ARE DUE BY FRIDAY, AUGUST 11, 2023.

PARTICIPANT SELECTION DECISIONS WILL BE COMMUNICATED BY FRIDAY, AUGUST 18, 2023.
Tri-Faith Initiative is pleased to announce the inaugural Emerging Clergy Seminar to Advance Interfaith Relationships and Understanding. Participants will engage in a cohort of fifteen emerging leaders from diverse faith and religious traditions.
The seminar will equip participants to foster interfaith learning and understanding in their congregations and communities.
Seminar Details
The seminar includes five virtual gatherings and one weekend immersion experience at the Tri-Faith Commons.*
Travel, meal, and lodging expenses for the weekend at The Commons will be covered for cohort participants.
Seminar workshops and experiences will be led by an exciting array of theological experts and interfaith leaders.
*Applicants should be prepared to prioritize attendance at all five virtual gatherings and the weekend at the Tri-Faith Commons. Concerns about scheduling conflicts can be directed proactively to info@trifaith.org or provided as a comment in the application form.
Virtual Gatherings:
● Thursday, August 24, 2023, 6-7:30pm Central Time
● Thursday, October 26, 2023, 6-7:30pm Central Time
● Thursday, December 21, 2023 , 6-7:30pm Central Time
● Thursday, February 15, 2024, 6-7:30pm Central Time
● Thursday, April 18, 2024, 6-7:30pm Central Time
Weekend at The Commons:
Friday, June 7 – Sunday, June 9, 2024 (anticipated travel day on Thursday, June 6)
Eligibility
Cohort participants will represent diverse religious and faith traditions, including and going beyond Judaism, Christianity, and Islam. We encourage many types of "emerging clergy" to apply, including spiritual care providers, imams, the soon-to-be ordained, those in the first few years of ordination, and other individuals who contribute leadership to their respective communities.
Applicants should also be current students or recent graduates of an accredited institution of higher education. Each cohort participant will be invited to engage the seminar from the particularities of their personal faith or religious identification, not as a representative of the whole tradition.
Seminar Benefits
This year's theme is Growing Together. Participants will have opportunities to build rich relationships with other cohort members as well as with mentors in the world of interfaith work. Additionally, participants will benefit from engaging the following objectives:
● Considering the role of clergy in modern religiosity and/or spirituality
● Growing understanding of the provenance and role of various scriptural sources within each tradition
● Deepening consideration for the development of theological, ethical, and legal discourses over time in each tradition
● Cultivating reflections on contemporary discourses within mainstream religious communities and how they grapple with new socio-cultural norms and attitudes
● Exploring our religious experiences and what it means to be a good guest/neighbor with others
At the conclusion of the seminar, active participants will receive a certificate from the Tri-Faith Initiative commending their engagement in this program. We hope you join us for a dynamic year of learning and gathering across differences as neighbors.
Join us as we are Growing Together!
THANK YOU TO OUR FUNDING PARTNERS:
Arthur Vining Davis Foundation
Jewish Federation of Omaha Special Donor Advised Fund
THANK YOU TO OUR STRATEGIC PARTNERS