Imagine… Gathering to Celebrate Difference (CANCELED)
Tri-Faith Initiative is closely monitoring the ongoing Coronavirus Disease 2019 (COVID-19) outbreak. As the situation continues to evolve, Tri-Faith's top priority remains the health, safety, and well-being of our community, both on and off the Tri-Faith Commons. In light of the World Health Organization's designation of COVID-19 as a pandemic on March 11, 2020, and in the spirit of being intentional about how we gather together, Tri-Faith Initiative has made the difficult decision to cancel our upcoming luncheon and fundraiser, "Imagine… Gathering to Celebrate Difference" with Priya Parker scheduled for Monday, March 16, 2020.
We would like to thank Imagine's corporate sponsors: Visionary Sponsor, Holland Foundation; Ambassador Sponsors, KETV and Charles Vrana & Son Construction Co.; Steward Sponsors, Kiewit Building Group and Security National Bank; and Patron Sponsors, All Makes Office Equipment, Commercial Flooring, Flood Communications, Fraser Stryker, Lamp Rynearson, Olsson, Performance Engineering, Terracon, The Sherwood Foundation, and Westside Community Schools.
We would also like to thank our table hosts and those who purchased individual tickets for Imagine. As Priya Parker notes throughout her work, we spend our lives gathering. Today, we are challenged to think creatively as organizations, families, and groups about how we should or should not gather together. The art of gathering in the midst of a pandemic is a challenge, and at this time, the Tri-Faith staff and leadership recognize that public health officials are encouraging social distance as a health and safety measure for the most vulnerable members of our community.
* * * * * * * * * * * * * * * * * * * * * * * * * * * * * * * * * * * 
Imagine… Tri-Faith Initiative's signature event celebrates and benefits the mission of Tri-Faith. The afternoon's festivities include lunch, an interactive workshop, and an awards ceremony honoring community members who amplify values that inform and inspire our work.
Monday, March 16
Welcome & Lunch: 11:30 am – 12:15 pm
Live Experience: 12:15 pm – 1:30 pm
Patron Meet and Greet + Booksigning at 10:00 am
CHI Health Center
455 N. 10th Street
Omaha, NE 68102
Business Casual.
Books will be available for purchase for $20.
Volunteers will be available for wheelchair assistance.
Registration is now closed.
 
Honorary Chairs
Jan and Charles Vrana
General Chairs
Robyn Freeman
Abdul Mackie
Kiley Maxwell-Ward
Corporate Chairs
Amee and Ted Zetzman
Visionary Sponsor
Ambassador Sponsors



The Art of Gathering Live Experience with Priya Parker
This will be a dynamic large group event for attendees to experience The Art of Gathering in real-time. In this highly interactive special event, Priya will demonstrate ideas that connect us to each other in new ways, while breaking down the anatomy of what makes gatherings transformative. Drawing from her new book, Priya will lead a group experience that demonstrates how gathering is a form of leadership and then reverse engineer what she does to create a sense of community. The result will be a dynamic, memorable experience providing real tools to apply to all of the gatherings in your own work and life.
Tri-Faith Bridge Builder Award Recipients
Dr. Maryanne Stevens, RSM
For her visionary leadership as chair of the Tri-Faith Initiative Board, and for her commitment to protect the freedom of religion and to celebrate our diverse democracy.
Dr. Ferial Pearson
For her courage and conviction as a life-long learner and educator focused on kindness, diversity, and inclusion work along the lines of race, ethnicity, and religion.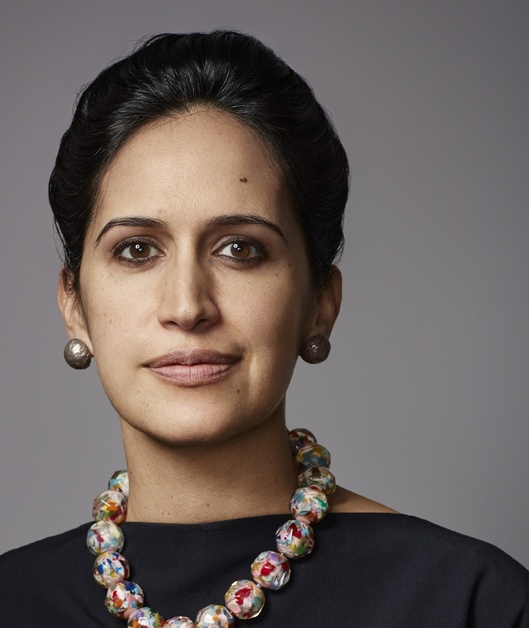 About Priya Parker
Priya Parker is a facilitator, strategic advisor, and the acclaimed author of The Art of Gathering: How We Meet and Why It Matters. Trained in the field of conflict resolution, Parker has worked on race relations on American college campuses and on peace processes in the Arab world, southern Africa, and India. She is a founding member of the Sustained Dialogue Campus Network, a member of the World Economic Forum Global Agenda Council on Values Council and the New Models of Leadership Council, and a senior expert at Mobius Executive Leadership. Her TED talk on transformative gatherings has been viewed more than 1.5 million times. Parker studied organizational design at MIT, public policy at the Harvard Kennedy School, and political and social thought at the University of Virginia. Parker's work has been featured in numerous outlets including the New York Times, the Wall Street Journal, NPR, TED.com, Forbes.com, Real Simple Magazine, Oprah.com, Bloomberg, Glamour, Today Show and Morning Joe. The Art of Gathering was named one of the best business books of the year by Amazon, Esquire, NPR, The Next Big Idea Club and 1-800-CEO-READS. She lives in Brooklyn, New York, with her husband, Anand Giridharadas, and their two children.