Episcopal Diocese of Nebraska Donates $500,000 to Tri-Faith Initiative to Celebrate the Completion of the Tri-Faith Center
Pictured: D.C. "Woody" Bradford III, Founding Board Member of Tri-Faith, and Wendy Goldberg, Tri-Faith Executive Director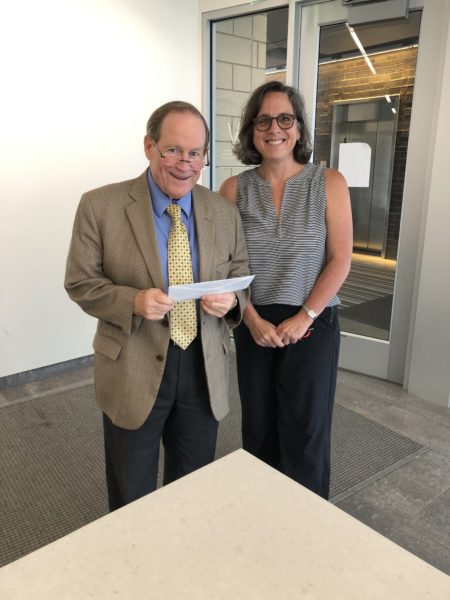 In celebration and support of the construction of the Tri-Faith Center, the fourth and final building on the Tri-Faith Commons, the Episcopal Diocese of Nebraska recently issued an invitation to Nebraska Episcopalians to make a donation in honor of Tri-Faith Initiative.
Despite Episcopal churches being closed for worship across the state for months, the fundraising effort was a great success. This week, the Episcopal Diocese of Nebraska presented a $500,000 gift to Tri-Faith Initiative.
"Our folks are so proud of the part we played to help establish Tri-Faith, and in the way that its work is promoting peace and reconciliation," said the Right Reverend J. Scott Barker, Bishop of Nebraska. "We wanted to find a way to help this amazing ministry cross the finish line."
The Episcopal Diocese of Nebraska was the original Christian partner in 2006 when the Memorandum of Understanding and the Tri-Faith Initiative was established. On April 12, 2015, Countryside Community Church voted to accept the invitation made by the Episcopal Diocese of Nebraska to take its place as the Christian partner of the Tri-Faith Initiative and on April 7, 2019 Countryside held its first service on the Tri-Faith Commons.
"It was the right decision for the Episcopal Church to withdraw as the leading Christian partner in Tri-Faith," said Barker. "It's been such a grace to see the strength and purpose with which Countryside Community Church has stepped into that role. But the affection for the members of the Muslim and Jewish communities with whom so many Episcopalians worked for all those years remains strong across the state. We all grew in tremendous ways because of this work, and we look forward to being continuing supporters of Tri-Faith."
Barker added, "I pray this gift will be seen as an encouragement to other branches of the Christian Church to invest in this unique and holy endeavor."
Rev. Dr. Eric Elnes, Senior Minister of Countryside Community Church said, "Countryside Community Church has always been tremendously inspired by, and grateful for, the vision and courage that moved the Episcopal Diocese of Nebraska to help establish Tri-Faith Initiative, and to provide us the opportunity to serve as its Christian partner on the Tri-Faith Commons. With this latest expression of vision and courage from the Episcopalians of Nebraska, we celebrate their generosity and continued belief in Tri-Faith. We also reaffirm our own commitment to further develop and prosper the interfaith and ecumenical work that the Episcopal Diocese helped begin and continues to support. We thank God for their faithfulness and companionship, and that of our Jewish and Muslim partners, on this breathtaking and sacred journey."
Bob Freeman, Tri-Faith Board Chair during the Diocese's years of active participation in Tri-Faith, thanked Bishop Barker and his leadership team for their participation and gift, "We are here in an important part because Woody Bradford, Bishop Barker, Bishop Burnett, Rev. Tim Anderson, and many other Episcopal leaders, volunteers, and contributors stepped up and joined in. Without them, this initiative would have been an interesting idea and beneficial to only a limited extent. But they continuously helped move Tri-Faith forward, always furnishing leadership, energy and guidance to something that under any circumstances was going to take years to bring to fruition."
Freeman continued, "We wouldn't be here without the Diocese's active leadership; and for them to now contribute to construction of the Tri-Faith Center is testimony to their zeal for and commitment to interfaith work. We are all so grateful to the Episcopal Diocese of Nebraska for their active leadership and now continuing support of this complex, ground-breaking and timely initiative! When people of different faiths roll up their sleeves and work together, there really are no limits or boundaries on what they can achieve."
The Tri-Faith Center is scheduled to open in July 2020 and will serve as a welcome center, conference facility, educational and research center, and hub for collaboration and interaction. Tri-Faith Executive Director Wendy Goldberg, one of Tri-Faith's Founding Board Members, said, "After fourteen years of partnership, hard work, and sometimes difficult conversations, the dream of building the Tri-Faith Commons has become a reality. Our staff, board, and volunteers are deeply grateful for this investment into our work as we move forward creating innovative and meaningful opportunities for connection, safeguarding religious freedom, and serving as a model for successful interfaith collaboration."
Current Tri-Faith Board Chair Dr. Ali Khan also celebrated the news, "The gift of the Episcopal churches is transformational in completing the fourth building on the Tri-faith Commons– the Tri-Faith Center. Not unlike the Dioceses' continuing inspiration from originally helping to establish the Tri-Faith Initiative and what we now look forward to as a new enduring partnership in a faith journey that celebrates religious differences. We are blessed to be members of such a generous community with Bishop Barker's spiritual leadership."
"I hope this gift is evidence of the Nebraska Episcopal Diocese's continued support of Tri-Faith Initiative. My thanks goes to all those who carried the dream of peace to a place where it could be nourished and hopefully flourish. I cannot think of a better example of "loving your neighbor" than what is and will be shown every day on the Tri-Faith Commons," added D.C. "Woody" Bradford III, Founding Board Member of Tri-Faith.