TO-GATHER
In March, Tri-Faith Initiative invited local architects to form multi-disciplinary teams of artists, contractors, and fabricators to conceptualize, design, and build one-of-a-kind picnic tables to be placed throughout the city — representing the deep importance of gathering.
On Thursday, July 22, representatives from Tri-Faith, TACK Architects, Alley Poyner Macchietto Architecture, TENxTEN Landscape Architecture and Urbanism, Altus Architectural Studios, HDR, Nelson Mandela Elementary, and Holy Family Community Center held an open conversation about the symbolism of the picnic table, the process and concept for seven custom tables that will debut this fall, and the connection to Tri-Faith's origins.
HANGING VALUES MOSAIC
Values Mosaic represents a partnership between the teen artists of Joslyn Art Museum's Kent Bellows Mentoring Program (KBMP) and members of the Tri-Faith Initiative community. Participants were asked the question "What is one core value that is important to you and why?" Each KBMP artist then painted two wooden triangles: one representing their own answer and one representing an answer from a Tri-Faith community member.
The triangular shape of the wood panel was selected to represent the three faith communities of Tri-Faith Initiative, as well as the shape's importance in the arts and engineering worlds. The triangle is the strongest and most stable shape. It is resilient to pressure and can provide support to frameworks as small as the easels we use for painting or as monumental as bridges and buildings.
We hope that by sharing some of our values, participants and viewers alike will pause to consider what they believe and cherish in their lives, as well as build upon their understanding and appreciation of cultures and views different from their own.
Joslyn's Kent Bellows Mentoring Program is an interdisciplinary arts studio and young artist mentorship that encourages teens to explore, observe, think, and create in the arts. Learn more at www.jolsyn.org.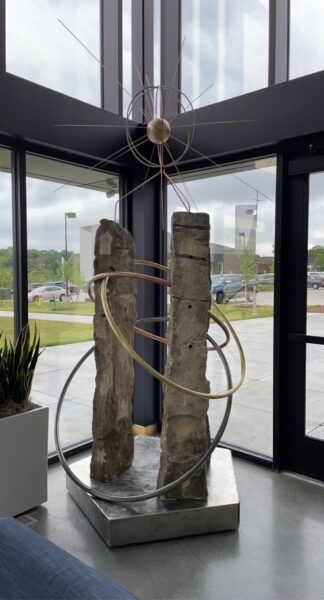 CHILDREN OF ABRAHAM SCULPTURE
Donated and created by:
Dorothy Slattery
Charlie Kleiman – stone sculptor
Jonathan Hyman – metal artist
Megan Kelleher – design, fabrication, and installation assistant.
This piece represents the artists' vision and wishes for peace, cooperation, and unity — foundations of our mission at Tri-Faith.
The three limestone pillars are repurposed fence posts weighing 450 lbs. Each. They are carved with symbols of the three major monotheistic religions that trace their roots to Abraham. The three metal unity bands encircle, embrace, and unite the three religious faiths. The single bronze sphere represents the universality and oneness of all religions.